It's finally that time of year again, Christmas!!  Every year when November 1st rolls around I find myself thinking back to last Christmas; feeling like it was just weeks ago.
Getting ready for Christmas is usually when I find myself starting to stress out over the anticipation of the holiday.
And why?! I know Christmas is not about the perfect cookies and treats (or is it….?) and its not having executing a Pinterest perfect looking house (which is very unpractical, btw!!)  But still, I continue to throw myself into a spiraling rabbit hole each November, yes I start early, by adding more to my  decorating list.  And since I'm into home decor AND I'm a Virgo, of course I  insist everything turning out perfect!!
I know (most of) my family and friends could care less about the wooden crate filled with birch logs, evergreen branches and twinkling lights, but I do! I've always had a passion for home décor, but that passion increases ten-fold at Christmas.  There's just so much prettiness about it!
This was my hand at putting said crate together for our front porch.
Growing up, I couldn't wait to help my Mom decorate the house for Christmas.  We'd grab a Christmas record (my brother and I loved the Alvin and the Chipmunks Christmas one AND of course the Burl Ives Christmas one too!!) crank it up and spend the whole day filling the house with Christmas cheer.
Click here to have a listen flashback to this classic!
One thing I've always wanted to do is to make fresh garlands for the staircase and door frame outside.  I've always wondered how people put them together so beautiful and neatly.  Not to mention, how they heck do they get them to hang over the threshold without totally ruining the door frame with staples and nails?! And…. how do they get them to last all season without the pine needles falling out?!  If you have any advice on all that, please fill me in!!
In the mean time, check out Just Destiny & CURATED INTERIOR for more beautifully decorated staircase ideas such as this one.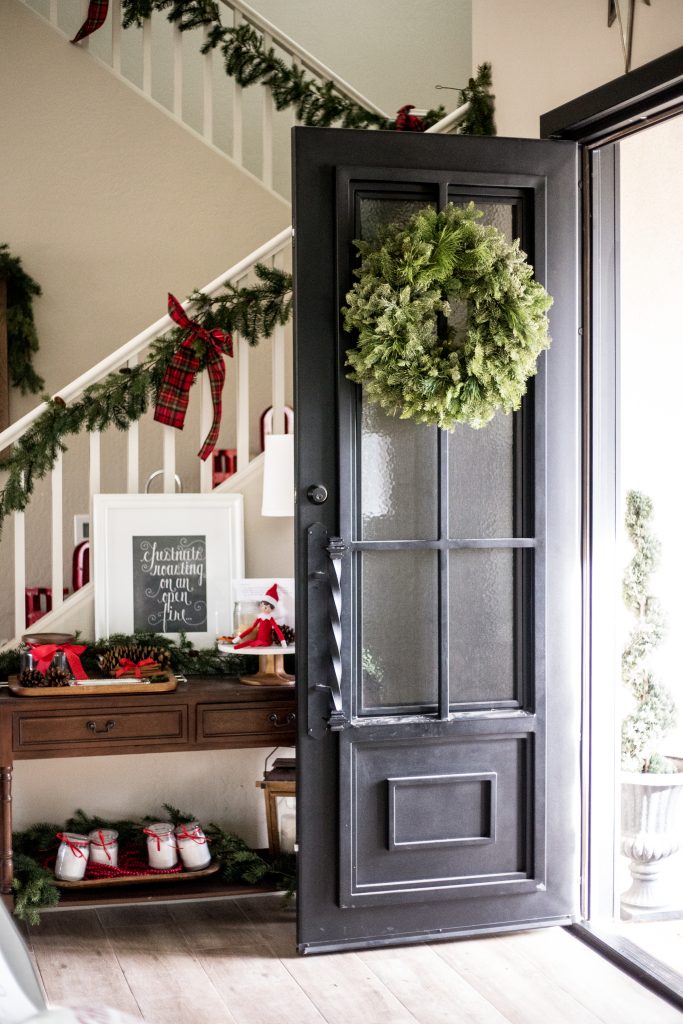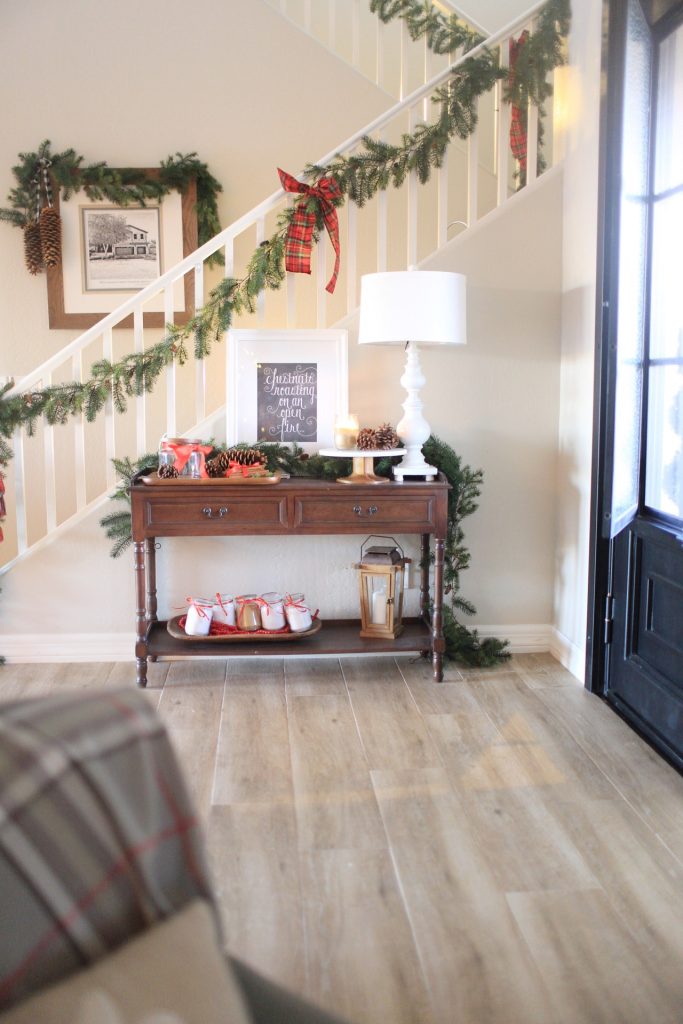 What's your approach when decorating your home for Christmas?  Bold and colourful?
Less is more?
This is my piano I learned to play on growing up with sheet music to my favourite Christmas carol.
DIY??
I love my coffee hutch we picked up at an antique shop. I won the 'Merry Christmas' sign a few years ago in a contest from the lovely Spring Meadow.
There's always the impressive beautiful-and-extravagant-save-it-for-the-pros decor-many of which should definitely up the stress factor!  (Just don't pull a Chevy Chase!)
Then there are many simple yet pretty touches of Christmas to implement for a less is more look.
And finally, there's the always fun, sweet and homemade holiday décor ideas you and your kiddos can do/make together to showcase in your home for the season.   These ones always make for the best keepsakes!
Take a browse and enjoy getting your home swoon worthy for the holidays.
Happy decorating!  Send me some of your favourite Christmas décor ideas!