Easy Valentine's Day Activities for Kids
With Valentine's Day just around the corner, I though I'd share some cute activities that were always a hit with my boys when they were younger. We've never made a big fuss over the day but it was still fun to make heart shaped everything!
Every year I tell the boys and my husband to not get me anything.  But, if they do, it's anything chocolate or handmade that I'm looking for!
I think the day is a bit silly, really. I mean – show your family love everyday, right!?!
When I was a kid I, my favourite 'art' activity was always on this day. I loved it when our teacher would give us our own brown paper bags to decorate with doilies and hearts and glitter and whatever else was in the craft bins. To me it was the best because I couldn't draw (and still can't), but I could be creative with this one.  When we were done, we'd tape the bags on the side of our desks and hand out those little Valentine's cards we'd buy from the store. It was so exciting to read all your cards afterwards!  Especially if you got a card from that really cute boy in your class; reading it over and over, trying to de-code it looking for any little subtle hint that he digged you too! So fun!
Here are a few fun and easy little things to get you started with your lovies.
Toilet Paper Roll Heart Stamps
This one is pretty straight forward and is easy peasy for any age.  Just simply grab an empty cardboard roll, bend it into a ♥ shape, dip in paint and go to town!
Heart Handprints & Footprint Keepsake
Again, just grab some paint, a canvas (most dollar stores sell these pretty cheap now) or sturdy paper, a Sharpie and have fun with it. This is a great grandparents gift or a cute gift for parents from their child and their teacher/child care provider. 
Heart and Beads Necklaces and Bracelets
This is a good one for teaching and supporting fine motor skills.  You could even pair up an older child to help out a younger little one with this activity. Team work, creativity & fine motor skills all strung into one!! 😉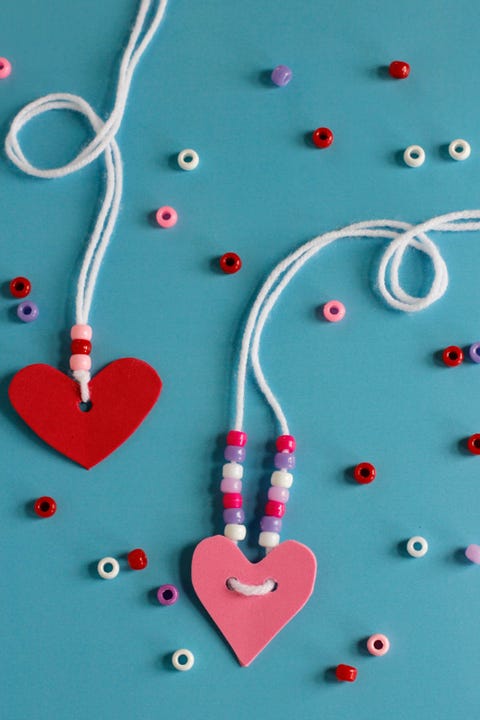 Valentine's Cookies
Baking anything is always fun, but when you don't have to bake – that leaves more time for eating! Grab some strawberry and vanilla wafer cookies, some white icing or melted white chocolate chips and lots of pretty and sparkly sprinkles! Doesn't get any simpler!! ♥
But if you do want to bake something, making a heart shaped cake or cookies is just as fun too! All we did was buy some pre-made sugar cookie dough (in the blue wrapper), got a heart shaped cookie cutter, baked, iced and decorated for some sweet heart shaped cookies.  For the chocolate chip cookies, I found a heart shaped baking mold at a local store and again bought the pre-made cookie dough, filled the hearts with it and baked.  The 3 of us had so much fun making these together. 💕 💕
And if you're still looking for more great ideas, check out my Pinterest board of Valentine's Day!!

Let me know what you and your lovies enjoy making or doing together for Valentine's Day !! ❤❤